Bill Aims to Boost Community College Ag Training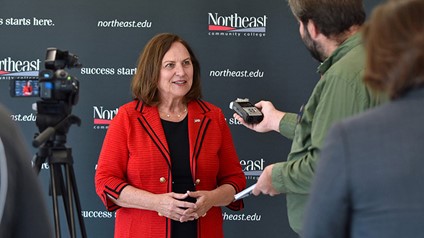 BY TABITHA WHISSEMORE JUNE 17, 2023
Many community colleges offer training for the agricultural industry, but these programs have historically been excluded from federal funding opportunities. New bipartisan legislation aims to fix that.
Six U.S. senators this month introduced the Community College Agriculture Advancement Act to authorize funding for community college workforce training, education and research programs in agriculture. The bill would establish a competitive U.S. Department of Agriculture (USDA) grant program.
"The USDA has typically had relatively few programs focused on technician-level training," says Tracy Kruse, executive director of the Community College Alliance for Agriculture Advancement (C2A3). But "the technician workforce is where there's new growth and opportunity."
By community colleges, for community colleges
C2A3 — which comprises 10 Midwest community colleges in collaboration with the USDA's Natural Resource Conservation Service and the Sustainable Agriculture Research and Education Program — originated and drafted the legislation.
The group "shopped around" its proposal and worked with Rep. Trent Kelly's (R-Mississippi) office to get it off the ground. The legislation is considered a marker bill and likely will get rolled into the larger Farm Bill that Congress is working to reauthorize.
Related article: Prime opportunities for ag students
"We've been working on this for a while," Kruse says. "The Farm Bill seems like the right opportunity to get it in motion."
About 250 institutions from 44 states have signed onto the bill – a level of support that makes a big difference, Kruse says. Having bipartisan support in Congress also helps.
The funding would help build capacity for community colleges to serve more students in agriculture programs, which is important because, even though there are fewer producers in the field, there are "more people in the ag workforce than ever before," Kruse says.
Funding would support curriculum development, outreach, faculty development, the purchase of updated equipment and more. Kruse says the legislation is modeled after the success of the longtime Advanced Technological Education program through the National Science Foundation, which focuses on capacity-building for technician training.
Tapping into technology
Kruse also serves as vice president of development and external affairs at Nebraska's Northeast Community College, which offers 13 agriculture programs that serve about 350 students. Agriculture accounts for nearly 50% of all employment in the state.
As the agriculture field changes, so do Northeast's offerings. For example, the college has a precision agriculture program, which gives students the skills to interpret, analyze and use data to improve production. And last year, Northeast began working on a program to boost cybersecurity skills in the agricultural workforce.
"Federal grant programs can provide much-needed funding to support initiatives like these," Northeast President Leah Barrett said in a statement when the new legislation was released.
Sen. Deb Fischer (R-Nebraska), a member of the Senate Agriculture Committee and one of the bill's co-sponsors, visited Northeast last fall and met with agriculture industry leaders and representatives of Northeast at the Acklie College Farm for a roundtable discussion on the future of precision agriculture and the technology necessary to maximize its effectiveness.
"Our legislation would ensure community colleges get the federal resources they deserve to expand their successful educational and workforce training initiatives in the community," Fischer said in a statement.

https://www.ccdaily.com/2023/06/bill-aims-to-boost-community-college-ag-training/