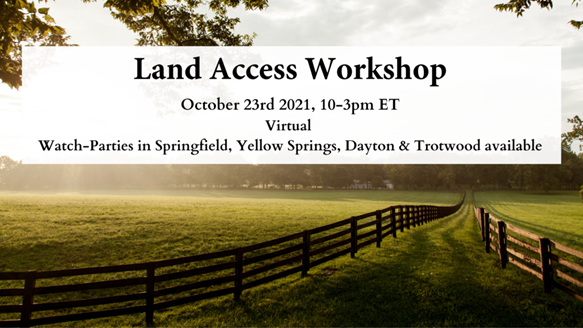 Clark State Partners with Central State Extension to Present Land Access Workshop
October 19, 2021
Clark State College and Central State University Extension have partnered with the Black Farming Network and Agraria to present a Land Access workshop Saturday, October 23 from 10 a.m. to 3 p.m.
The Land Access workshop will be held both virtually and in hybrid format with watch-parties at four locations.
Part I of the workshop will cover: How to prepare to purchase land and part II of the workshop will cover: How to access land.
Dr. Alcinda Folck, State Program Leader of Agriculture & Natural Resources for Central State University Extension, said access to land is one of the obstacles faced by beginning farmers.
"This seminar will address this obstacle and provide opportunities to help beginning farmers become successful," she said. "The goal is to help beginning farmers overcome obstacles and become successful in building their dream."
Folck said anyone who is interested in farming, especially those who want to begin growing crops or livestock as a business should attend the workshop.
"The farms can be in an urban or rural area — size doesn't matter," she said. "The conference is for people who are interested in small, sustainable farms."
Dr. Arly Drake, assistant professor of agriculture at Clark State, said demographically farmers are aging and the next generation of farmers are important to global food production. She said there are a variety of programs and initiatives to help beginning farmers, including the USDA's Farm Service Agency which can help cover start-up expenses.
"Also, demographically speaking, minorities and women are underrepresented in farming. This is unfortunate because historically they have made great contributions to agriculture," said Drake. "For example, Dr. Evagelina Villegas improved the digestible protein content of corn which undoubtedly improved the nutritional status of millions of people; and George Washington Carver created a crop rotation that improved productive capacity."
The workshop watch party locations include:
Central State University -Trotwood
Trotwood Community & Cultural Arts Center 4000 Lake Center Drive, Trotwood
Central State University -Dayton
840 Germantown Street, Dayton
131 East Dayton-Yellow Springs Road, Yellow Springs
570 East Leffel Lane, Springfield (301 Rhodes Hall)
There is no cost to attend the workshop. See registration site for more details: https://land-access-workshop.eventbrite.com
For more information contact:
Crystal Jones | Vice President of Marketing, Diversity and Community Impact
937-328-6145 | jonesc@clarkstate.edu