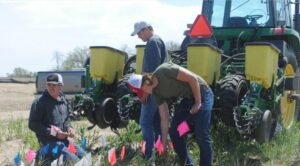 Northeast Community College in Nebraska is in the middle of a major ag program expansion.
Curt Arens | May 28, 2021
If you are driving through the campus of Northeast Community College in Norfolk, Neb., you will notice more activity than just students and instructors going to classes. You can't miss the new construction. In the past couple of years, a new residence hall has gone up, and the student union has been given additional space.
This year, driving east to the Chuck M. Pohlman Ag Complex, you will note a new veterinary technology building being built to the west of the Pohlman facility, and a large animal and farming operations complex that makes up the new Acklie Family College Farm going up to the north.
The campus is exploding with activity, thanks in part to a long-range plan called the Nexus Campaign, raising $22 million from college investments — as well as private contributions, and agribusiness and industry donations from around the 20-county region surrounding the college and across the state. These donations are investing in programs and facilities that will educate the next generation of agriculture students at Northeast.
The work at Northeast is not an anomaly. Look at the 2015 Coffee Family Foundation Range Complex and Agriculture Pavilion at Chadron State College in Chadron, the nation's No. 2 range management program. Thanks to the expansive ag offerings through the University of Nebraska-Lincoln, the College of Agricultural Sciences and Natural Resources has experienced record enrollment.
How about industry and institutional partnerships that have added agribusiness degrees and opportunities for ag students at Wayne State College and Midland University, among other colleges and universities?
The Nebraska College of Technical Agriculture just welcomed a donation of 2,100 acres of rangeland from David Scholz and his late wife, Sande, that will be used to give students at NCTA in Curtis hands-on ranch experience. And nearly every community college in Nebraska, including Northeast, has invested deeply in precision ag programs.
For the next generation
Why is all of this happening? Because agriculture is an industry that is expanding in leaps and bounds, with technology leading the growth. Everyone recognizes the challenges in feeding a growing world population. According to the Food and Agriculture Organization of the United Nations, one in three people globally work in agriculture.
Ag students are among the most sought-after job candidates in hundreds of different career paths, ranging from production to communication and education to government, business, finance, technology and, of course, science.
Nebraska Farmer recently visited the campus at Northeast and talked with Tracy Kruse, vice president of development and external affairs. We first visited with Kruse back in 2016 when much of the construction was still in the planning phase. Today, she can talk not only about the construction being made and the gigantic support from the community, but also about plans for the future and why agriculture is a crucial, expanding industry.
The original campus growth plans that are now coming to fruition began with initial discussions in 1999 that led to the construction of the Pohlman Ag Complex east of the main campus in 2004 that houses a large arena and classrooms.
'That led to a larger vision to do what we are now doing on campus," Kruse says, "with the addition of a precision ag program, construction of a veterinary technology building and a new farm operations building."
To build these facilities and add new programs takes money. So, Northeast launched the Nexus Campaign to raise $22 million. That money came in from hundreds of private donors, as well as large industry and community donations.
Statewide agriculture organizations pitched in, helping to forge partnerships with Northeast that stretch out across the state. In addition to funds for the construction of the facilities, the college also received $2.6 million in endowment funds to support scholarships and ongoing maintenance of ag buildings.
Vet tech program
As one of only two accredited vet tech programs in the state, with the other program at Nebraska College of Technical Agriculture in Curtis, Northeast is building a vet tech structure with this funding that will have state-of-the-art facilities to accompany an already strong program.
The farm operations building will help grow the college's 50-head cow-calf herd and feedlot facilities. It also will provide space to bring in swine, sheep and poultry for animal science students. With these new buildings on schedule to be completed for the fall semester, the college is planning an open house celebration for the public late fall 2021.
"Precision ag was really one of the first programs to be added as a result of all of this work," Kruse says. At this time, the 5-year-old precision ag program is housed in a former maintenance building, so adding a new headquarters for that program is on the to-do list after completion of current construction, depending on available funding.
The college's mobile precision ag lab has traveled to 26 schools across Nebraska and even across state lines, to teach high school ag students about the possibilities in precision agriculture and technologies being employed on today's farms and ranches.
The technology is often what hooks new students into agriculture, even if they don't have an ag background, Kruse says. A recent grant from the CHS Foundation will allow the college to continue that work.
Northeast is also looking for ways to integrate current programs and create more interdisciplinary instruction to enhance the exposure of students to more career opportunities, Kruse says. "We're now looking at urban agriculture. Really, this is a mesh between horticulture and agriculture," she explains. "If you look at horticulture, there are hundreds of opportunities for jobs, but what students don't often understand is that horticulture is agriculture."
Maybe an ag student wants to return to the farm, but they can use their knowledge of horticulture to start an on-farm greenhouse to add another income stream. "That's the kind of integration we want to encourage, so students come away with a lot of knowledge that makes them very valuable to potential employers," Kruse says.
In similar ways, Northeast connects its biology program and faculty with its newly developed natural resources program to study the effects of agriculture on the environment and water resources.
Ag in the future
With more than 40% of Northeast students in agriculture now coming from metro areas outside the 20-county region, many of those students do not have a traditional agriculture background.
"We have a lot of vet tech students who come here to learn about small animals, but we also want to expose them to large animals while they are here," Kruse says, "because there is shortage of veterinarians and we need vet tech professionals who can treat large animals as well. We want to expose them to multiple opportunities."
One bonus for Northeast is its outdoor classroom, which includes more than 500 acres of cropland — complete with four center pivots — contiguous to campus.
"We are astounded by the foresight of our board of governors to purchase that land when it became available," Kruse says. That kind of cropland offers multiple opportunities for students to get real-life experiences that will help them on the farm or in industry.
With an increased focus on technology, interdisciplinary learning and integrated classroom work, Northeast, along with numerous other colleges around the region, is busy training the next generation of farmers and ranchers — and the service technicians and industry workers who will keep agriculture growing more efficient in production and prudent in the use of natural resources.
"We want to teach our students technology, but not just a particular technology," Kruse says. "We want them to know how to troubleshoot and think critically, and to know and understand how technology works." This kind of knowledge is what will keep ag students of the future on the most wanted list for the thousands of jobs available in agriculture.
Learn more about the growth of the ag program at NECC at northeast.edu.