Northeast Community College launches new agriculture-diesel mechanic apprenticeship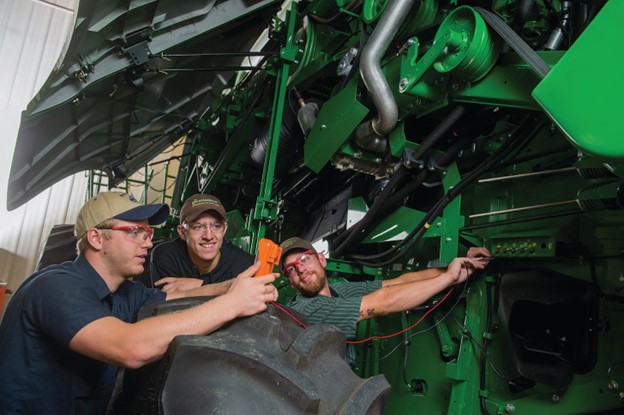 FOR MORE INFORMATION: Jim Curry (402) 844-7063; jamesc@northeast.edu
NORFOLK, Neb. – Northeast Community College has created a new agriculture-diesel mechanic apprenticeship program that is tailored to serve individuals who are unable to attend college as a traditional full-time student. With the apprenticeship program, students will work at an ag diesel company and earn an income while advancing their career and obtaining industry skills.
Development of the program began in 2021 through conversations with the ag diesel industry around the shortage of qualified diesel mechanics. Northeast's Diesel Technology-Agriculture associate degree program is consistently filled with additional interested students who are placed on a waitlist. The college began exploring ways to increase capacity in this area as well as offer an alternative pathway for those not able to attend school full-time as a traditional student.
"The apprenticeship program is centered around bootcamp-style classroom education and structed on-the-job learning," said Kimberly Andersen, apprenticeship director at Northeast. "The first cohort of classroom training will begin in mid-June. Apprentices will spend five-to-six weeks in the classroom learning the basics of the industry and work processes. Individuals will then begin working full-time at one of our employer partners and will return to Northeast quarterly for module trainings ranging from four-to-six days each."
Apprentices will also complete structured on-the-job learning alongside an experienced mentor at their company. On-the-job training will help apply classroom knowledge to real-world experiences.
Apprenticeship provides an alternative pathway to career success for individuals who need to earn an income while they learn. Apprentices will earn an hourly wage while working on the job and may also be eligible for company benefits such as health, dental and paid time off.
"The completion of the apprenticeship program will place the apprentice in the middle of one of the most sought-after job markets, achieving the skillsets to have a fun and rewarding career, in an industry filled with rapid innovations," said Bob Shald, service manager for Mitchell Equipment. "Mitchell Equipment is a proud supporter of Northeast's Apprenticeship Program."
Completing the apprenticeship program will take approximately three years. Apprentices will receive a nationally recognized credential from the United States Department of Labor. In addition, they'll be earning a sustainable living wage through a full-time career with potential for advancement within their company.
"Northeast is excited to be offering this innovative opportunity for individuals in our area," Andersen said. "This type of program is the first of its kind in the ag diesel field and Northeast is proud to be able to offer it."
Individuals interested in becoming an apprentice or businesses that have a desire to get involved in the program should contact Andersen at kander61@northeast.edu or (402) 844-7121. Learn more about apprenticeship programs at Northeast by visiting northeast.edu/apprenticeships.
This article may be viewed on the Northeast website at https://northeast.edu/news/article/5177-northeast-launches-new-agriculture-diesel-mechanic-apprenticeship