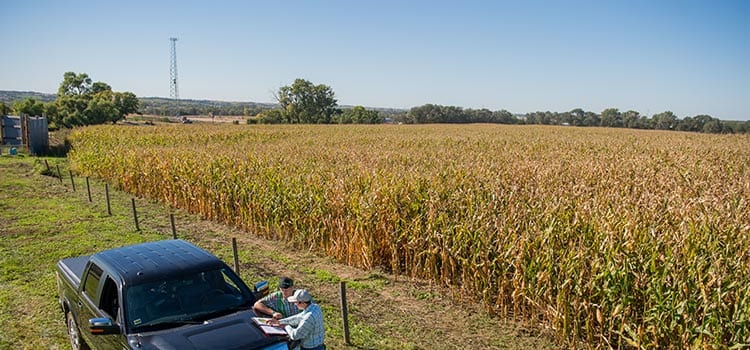 Northeast, other community colleges sign MOU with USDA and Corn Growers
WASHINGTON – Representatives of five Midwest community colleges, including Northeast Community College, have come together to form a national consortium to sign a memorandum of understanding (MOU) with the United States Department of Agriculture's Natural Resources Conservation Service (USDA-NRCS).
This collaboration, which also includes the National Corn Growers Association and USDA's Sustainable Agriculture Research and Education Program (SARE), was born out of a mutual desire to provide more ongoing education, training and demonstration to future farm producers and agricultural service providers with the goal of improving the health, and therefore the long–term productivity, resilience, and sustainability of soil.
In addition to Northeast, participating colleges include Butler Community College, El Dorado, KS; Northcentral Technical College, Wausau, WS; Northeast Iowa Community College, Calmar, IA; and Richland Community College, Decatur, IL. The hope is to expand the consortium in the coming years.
In response to its customer and stakeholder needs, NRCS recently formed a new Soil Health Division. Among other responsibilities, division staff members will help deliver soil health management, education and advanced training across the country and build partnerships to expand that impact. As part of this effort, NRCS sought community college partners to be a part of their work plan.
"This partnership with the community colleges will leverage efforts of the newly formed Soil Health Division. It will help build a network of the next generation of land managers, experts, educators and technicians who are actively involved in improving soil health," said Dr. Bianca Moebius-Clune, NRCS's director of the soil health division.
As part of the agreement, the colleges also join a growing network (65 sites so far) nationwide working alongside the National Corn Growers Association to test various soil health management systems designed to improve the health of soil to increase yield and profitability and, over time, reduce environmental risks using these practices. These test plots are implemented on the community college campuses; allowing students to learn about these practices and begin to understand their promise for higher yields and profitability, their effect on resiliency against extreme weather and improved utilization and retention of nutrients on the crop.
Nick Goeser, director of NCGA's soil health partnership, said that by working directly with community colleges, they are able to reach a much wider audience of future producers than would otherwise be possible through their project.
"USDA-SARE hopes to be able to support the partnership through its grant programs by providing professional development support to the colleges' agriculture educators and educational materials to support student learning in the classroom."
USDA's NRCS and SARE programs are a critical link in the education of the current generation of farmers and ranchers; and colleges such as Northeast are considered an important asset in educating the next generation of producers. Many of the approximately 350 agriculture and related program students who attend Northeast each year go back to their family farms or work within the industry once they graduate, while others transfer to four-year institutions.
"The students walking through our doors are the next early adopters of new conservation techniques and practices and they really embrace the use of technology to enhance their work," said Corinne Morris, dean of agriculture, math and science.
This is one of many partnerships Northeast Community College has engaged in over the past few years. Other industry partners include Helena Chemical, Central Valley Agriculture, Channel/Monsanto, Pioneer, Farmers Pride, Valley Irrigation, Encirca, and Lower Elkhorn Natural Resources District, as well as educational partners such as the University of Nebraska-Lincoln and South Dakota State University.
John Blaylock, vice president of educational services at Northeast, said, "These partners provide technical assistance and expertise in our field projects on the College farm; they work with students in the classroom and as mentors in internships and they provide faculty with cutting-edge research and knowledge to add to the curriculum. Additionally, the university systems in Nebraska and South Dakota have been instrumental in developing pathways for Northeast students to continue their education in agriculture beyond the associates degree."
"Agriculture accounts for one out of every two jobs in northeast Nebraska, and is 63-percent of the gross regional product," said Dr. Michael Chipps, Northeast president. "By investing in technology and innovation in agriculture, we are helping sustain and grow our rural economy, addressing food and water security concerns and protecting our resources for future generations."
–###–
PHOTO CUTLINE 
Jason Weller (third from right), chief administrator of Natural Resources Conservation Service (NRCS) in Washington D.C. is joined by representatives from five community colleges during a signing ceremony to form a collaboration to address soil health. Pictured (L to R) are Dr. Liang Chee Wee, Northeast Iowa Community College; Dr. Kim Krull, Butler Community College, Kansas; Dr. Michael Chipps, Northeast Community College, Nebraska; Weller; Dr. Chuck Novak, Richland Community College, Illinois; and Dr. Shelly Mondeik, Northcentral Technical College, Wisconsin.